GenMega G2500
The Genmega G2500 is the workhorse of the industry.
As with all retail ATM's from Genmega, a free camera is included
The G2500 comes standard with an 8" high-resolution wide-screen LCD and can come with a 10.2" touchscreen which we don't recommend. The receipt printer can also be upgraded to a 3" graphics-capable for custom branding or coupons. The integrated topper can also be paired with a selection of energy-efficient LED or digital toppers to add visual impact and attract customers.
In addition to the fixed, removable and multi cash cassette dispenser options offered by Genmega, the G2500 can also support cash dispensers from other equipment suppliers, providing more flexibility and upgrade options for existing deployments.  Genmega no longer sell the upgrade kits to other manufacturer dispensers.
To order Click Here.
In addition to the G2500 Genmega also has the  Onyx and Onyx-W wall mount ATM.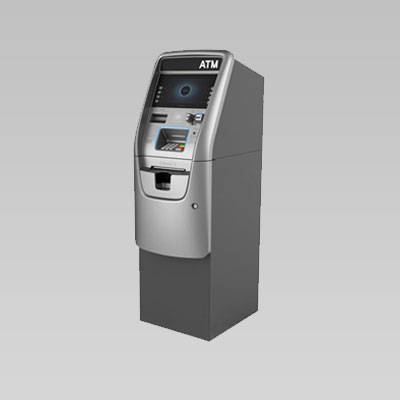 Hyosung Halo II
The HALO II provides the best value of any retail cash dispenser in the industry with added peace-of-mind from enhanced security features at an affordable price.  This new member of the Nautilus Hyosung retail family offers an improved UL 291 business hours safe with added break-in protection, an EMV card reader, a PCI 5.0 compliant keypad and secure communications protection using TLS (Transport Layer Security) transmission encryption.
Innovative Design
The HALO II offers a unique, sleek design perfect for locations ranging from small convenience stores to high-end retail ATM locations.  Eye-catching, customizable color LED lighting around the keypad attracts more users to drive additional transactions and revenue to your bottom line.  Nautilus Hyosung's intuitive application interface is presented on a vivid 10.1" color LCD screen and all user touch points (screen interface, keypad and cash exit) are positioned for optimal visibility and access.
Hyosung Halo II programming, installation and training included - Includes 10.2" wide Color display, Windows CE, Internet Option and Lighted Key Pad.  Electronic Lock, 1,000 note, 2000 note, 2X or 3X removable cassettes, EMV card reader, 3" printer, topper Optional.
To order Click Here
Hyosung MX2800
Hyosung is dedicated to making technology work for the humans who use it with the Hyosung 2800 Force. This model replaced the 2700CE and improved on it.  The display is now 12", extra outlets in the top of the ATM for accessories like a cellular router.  In the vault there is a light so no more holding a flashlight in your mouth to work inside the vault.
User Experience
The brilliant 12.1-inch color display has touch function keys and a more elegant user interface. The integrated topper now has a brightness control (high, medium, and low) allowing the FORCE to be customized to any environment, from bright C-stores to dark nightclubs. Arrows at the card and receipt slots light up to direct the user to those areas. All with a 6K note capacity.
Serviceability
Hyosung engineers added a light in the vault to make it easier to cash load and service the ATM. Never again will someone need to hold a flashlight while trying to work inside. The new FORCE also gives maximum installation versatility. Four power cord holes allow the machine to be placed anywhere, even flush against the back wall. Plus, additional bolt-holes make it easy to replace any ATM with the FORCE.
Security
The FORCE has an optional camera that photographs the user during transaction and stores it with the associated transaction record. It can also display the camera view on the transaction screen to make the user aware of being filmed, thus thwarting potential misuse. An additional camera mount is provided to allow installation of a third-party camera for even more security
Connectivity
Wireless has quickly become one of the most prevalent forms of ATM communication. Now there's an option for protecting your wireless investment as well as ensuring uptime. The FORCE offers a new wireless mounting bracket and two additional power outlets: one for your wireless modem and another for any other device like a video topper. The bracket also keeps communication cables up and out of the way when accessing the top of the ATM and changing receipt paper.
To order Click Here